Sanwa StainlessMag SM
A New, Absolutely Leak-Free Stainless Mag Series Pumps Have Been Launched. The Best Sold And Most Reliable Sanwa Stainless Steel Magnet Drive Pumps Really Save Space And Energy.
Features
-Easy Cleaning --- Standard Open Impeller. Easy To Clean.
-Durable --- Sic Wet Bearing Is Adopted As A Standard, Ensures Durability And No Frictional Wear.
-Energy Saving --- Reduced Electric Consumption By 10% Due To Unique Design Concept.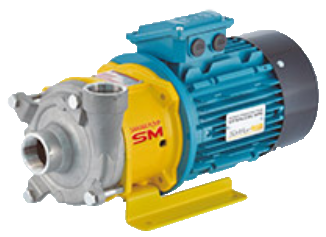 Applications
-General Industries
-Chemical
-Food, Medical
-Semiconductors
-LCD
-Surface Treatment
-Environment
-Equipment-Use
Specifications
-Design Pressure 0.4 Mpa (Motor :0.37kw・0.55kw), 0.6 Mpa (Motor:0.75kw・1.5kw・2.2kw)
-Max. Temperature 100℃
-Min. Temperature -20℃
-Type Of Impeller Close (Motor :0.37kw・0.55kw), Open (Motor :0.75kw・1.5kw・2.2kw)
-PUMP 304 Stainless Steel
-O Ring EPDM (PO) {Option: FKM,VMQ}
-Bearing Sic (Ceramic)
-Motor 3Phase 200V/220V/380V/400V/440V