Sanwa Magpac MA MB
Compact Standard Centrifugal Pump
MAX Total Head MA [3.5m (60Hz) 25W / 60W MOTOR]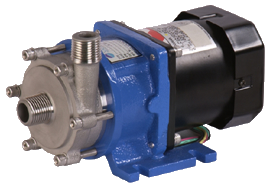 Intro Pump
-Leak-Free And Highly Reliable Compact Stainless Steel Magnet Drive Pump.
-Max Liquid Temperatures 130C.
-Lightweight And Compact Suitable For Equipment-Use
-Made Of Stainless Steel, Which Contributes To Corrosion, Heat And Pressure Resistance.
-Super-Lubricating And Super-Low Wear Sic-D Bearings Support The Magnet Drive Securely.
-Maintenance-Free. No Need For Spare Parts.
-Liquid Below Freeing Can Be Handled.
Applications
-Semiconductor And Liquid Crystal Processing
-Freezer And Cooling Device
-Various Physicochemical Equipment
-Laboratory And Testing Equipment
-Pharmaceutical And Food Processing
Specifications MA
-Frequency(Hz) 50
-Maximum total head(m) 3
-Maximum capacity (L/min) 15
-Maximum operating temperature (C) 130
-Minimum operating temperature (C) -20
-Liquid maximum specific gravity 1.1(MA25)
-Liquid maximum viscosity (mPa s,cP) 50
-Design pressure(MPaG) 0.6
-Connection size [Suction x Discharge](inch) R1/2?R1/2
-Pipe connection R thread (Flange is Option)
-Impeller type Open
-Rated motor output 25W
-(Synchronized) rotation speed (rpm) 3000/3600
-Pump material SCS13(SUS304) SCS14(SUS316)
Specifications MB
-Frequency(Hz) 50
-Maximum total head(m) 6
-Maximum capacity (L/min) 15
-Maximum operating temperature (C) 130
-Minimum operating temperature (C) -20
-Liquid maximum specific gravity 101
-Liquid maximum viscosity (mPa s,cP) 50
-Design pressure(MPaG) 0.6
-Connection size [Suction x Discharge](inch) R1/2 R1/2
-Pipe connection R thread (Flange is Option)
-Impeller type Closed
-Rated motor output 60W
-(Synchronized) rotation speed (rpm) 3000/3600
-Pump material SCS13(SUS304) SCS14(SUS316)