Mixel Customized Agitators SIDE-JET
Side Entry Agitator With Guiding Turret For Easy Maintenance Of Sealing System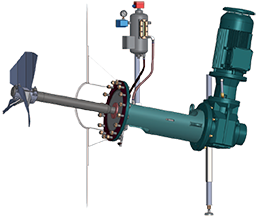 Applications
Agitator For Storage, Homogenization And Suspending Solids, Blending And Heat Keeping. Chemistry, Petrochemistry, Oïl & Gas…
BLENDED PRODUCTS
Hydrocarbons, Oil Additives, Oils, Food Additives, Paint And Coloring, Industrial Effluents.
Materials
Guiding Turret For SIDE JET Agitator Is Made Of FGS400 Cast Iron. Agitation Parts Can Be Made Of Carbon Steel, SS304 Or 316L, Alloy, Or Coated Carbon Steel (With Rubber, Plastic…)
SPECIAL FEATURE
Thanks To JET, Maintenance Technicians Can Complete Servicing Of The Mechanical Seal In Roughly Four Hours, In Safe Conditions.