Lutz Flow Meter TR3 PP
Easy To Operate, Compactly Built And Quick To Mount On All Drum- And Container Pumps: The New Lutz Flow Meter Tr3 In Pp Or Pvdf. A Handy Meter That You Can "Count On" In Any Situation. The Symmetrical Measuring Chamber Allows It To Be Used For All Flow Directions And Measures Low-Viscosity, Non-Flammable Media Precisely, Quickly And, Above All, Efficiently.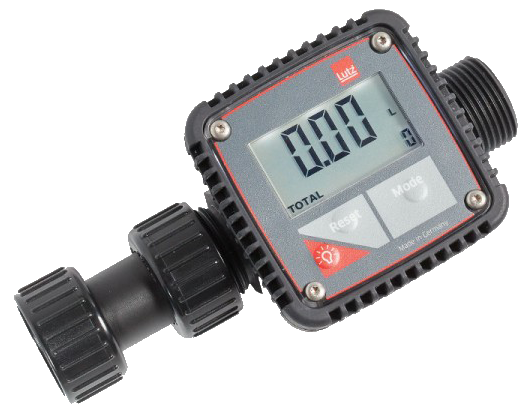 Technical Data
-Suitable Media: Eisen-Iii-Chlorid, Glykol, Phosphorsäure, Salzsäure
-Housing Material: Pp (Polypropylene)
-Measuring Chamber (Material): Pp (Polypropylen)
-Axis (Material): Hastelloy C-22
-Seals (Material): Ptfe (Polyvinylidene Fluoride)
-Temperature Of Medium (Max °F): 122
-Flow Volumes (Up To Max. Gpm): 31,7
-Messgenauigkeit Kalibriert: ± 1%
-Wiederholgenauigkeit (%): ± 0,5
-Viscosity (Up To Max. Cps): 40
-Xternal Connection Thread : 1 1/4", 1"
-Messgenauigkeit Kalibriert: ± 1%
-Wiederholgenauigkeit (%): ± 0,5
-Operating Pressure (Max. Psi): 145
-Protection Type: Ip65
-Version: Mounting On B1/B2 Battery / B2 Vario, Mounting On Drum Pump, Installation On Nozzle
Features & Advantages
-Measurement According To The Turbine Wheel Principle
-Display Of Partial And Total Quantity
-Variable Display Orientation
-Mobile On A Drum Pump Or With Nozzle Connection
-Measuring Range From 5 L/Min - 120 L/Min
-Easy Battery Change