Lutz Dump Pump Concentrated Acids And Alkalis
The Drum Pump Is Suitable For Corrosive, Aqueous To Slightly Viscous Media.
Perfectly Suited For Withdrawing Or Transferring Concentrated Acids And
Alkalis.
39" / 1000 Mm (For Emptying Drums)
47" / 1200 Mm (For Container Emptying)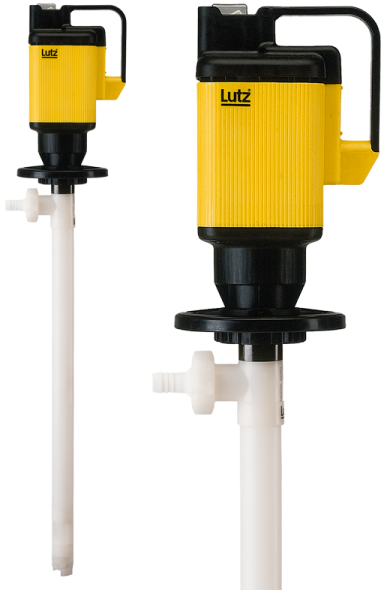 Features & Advantages
-Optionally With Electric Or Compressed Air Drive
-No Lubricants And Therefore No Contamination Of The Pumped Medium By Lubricants
-Optimised Drum Emptying
-Universally Resistant PTFE Shaft Bearings
-Maintenance Without Special Tools
-Seal Modules Of The Seal-Less (SL) Pump Can Be Replaced
MATERIAL
-Pump Tube (Material): PVDF (Polyvinylidene Fluoride)
-Impeller (Material): ETFE (Ethylene-Tetrafluorethylene Copolymer)
-Static Seal (Material): No Seals In Contact With The Medium
-Mechanical Seal (Material): No Seals In Contact With The Medium
-Bearing (Material): ETFE / PTFE
-Drive Shaft (Material): Hastelloy C (2.4610)
OPERATING DATA
-Flow Rate (Up To Max. GPM)*: 21, 25
-Delivery Head (Up To Max. Ft)*: 52 , 56
-Temperature Of Medium (Max °F): 212
-Density (Up To Kg/Dm³): 1.6, 2.8
-Operating Pressure (Max. Psi): 87
-Viscosity (Up To Max. Cps)*: 600, 1000
PUMP TUBE
-Type Of Impeller: Radial-Flow Impeller
-Seal Type: Sealless (SL)
-Immersion Length: From 39" (1000 Mm), From 47" (1200 Mm)
-Immersion Tube Diameter (Up To Mm): 1.6
-Thread (Inch) Outside: 1 1/4"
PROPERTIES
-Type Of Drive: Electric, Compressed Air
-Output (W): 510, 1000
-Voltage: 120
-Frequency (Hz): 60