Cemco Compact Neutralizer TPH
-Uses a resin case that provides excellent waterproofing and corrosion resistance.
-Low-noise design is intended for indoor use.
-The unit comes in two types: One that controls both acids and bases, and another that controls either bases or acids.
-Automatic calibration
-Refined appearance belies the fact that this is a waste water treatment unit.
-Compact design for a small footprint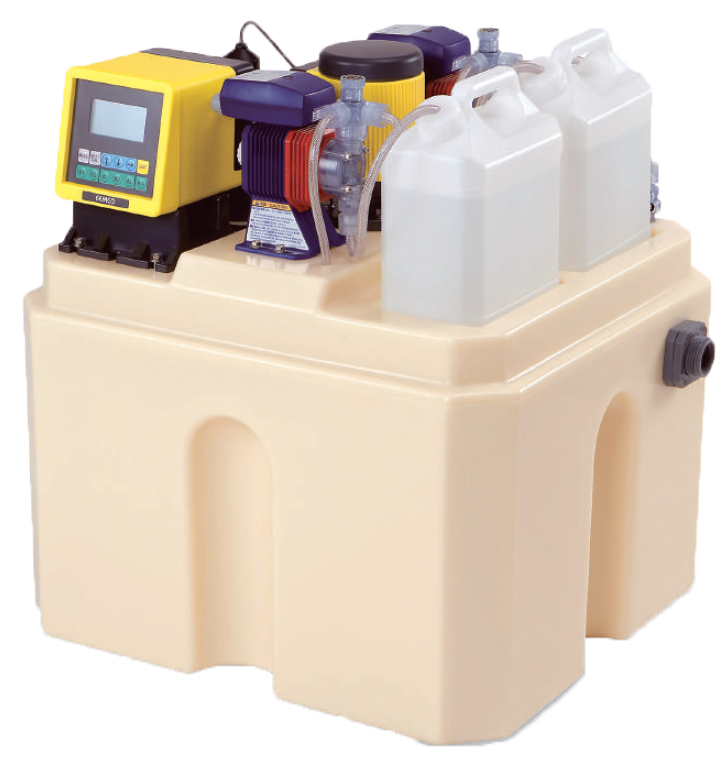 Specifications Model TPH-1
-Treatment capacity 100 ~ 200ℓ/h
-Chemical intake method Single-item control, acid or base
-Neutralizing tank 100 liter polyethylene tank
-Chemical tank One 4 liter polyethylene tank
-Chemical pump 20W 65ml/min, solenoid metering pump
-Mixer 45W/220V
-Inlet and outlet 25A screw
Specifications Model TPH-2
-Treatment capacity 100 ~ 200ℓ/h
-Chemical intake method Dual-item control, acid and base
-Neutralizing tank 100 liter polyethylene tank
-Chemical tank Two 4 liter polyethylene tanks
-Chemical pump 20W 65ml/min, solenoid metering pump
-Mixer 45W/220V
-Inlet and outlet 25A screw